I am making this one public, but I am not going to promote it to other communities. If you want to promote this to your friends list feel free to!!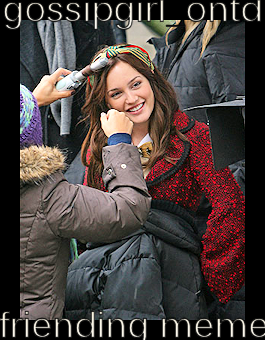 It-it's not that I want her DEAD, it's just I want her not to be alive any longer.


Name:
Age:
Favorite GG characters:
Favorite GG celebs:
Favorite GG couples:
Unpopular GG opinions:

Other fandoms:
Other interests:
What you post about:
Journal security:
What should we know about you before we add you:

And you know, just for kicks...what do you like about gg_ontd?




HAPPY FRIEND-MAKING!!!